Ready to explore some of the most beautiful and romantic places on earth? Then you're in luck! In this post, we will outline the top 7 things you can do in Paris – from sightseeing to spending time in the city's iconic museums. Whether you're a first-time visitor or a seasoned traveler, this post has something for you. So grab your passport, and let's go!
1. Eiffel Tower
Of all the top spots among the best places to go in Paris, The first thought that comes to mind is the Eiffel Tower. The Eiffel Tower is a tower constructed of wrought iron. It is widely considered to be the most significant tourist attraction in Paris. It was constructed in 1889 as the main Entrance to the World Fair; it is an iconic symbol of not just Paris but all of France.
The tallest structure in Paris with a height of 1063 feet with three levels open to guests – is on the top list of top tourist attractions in Paris. The two lower floors feature restaurants and shops, while the third floor boasts the most stunning view of Paris.
This place is worth visiting. It's not just one of the most popular tourist destinations in Paris but one of the most stunning locations in the world. If you don't visit this spot, your Paris trip remains incomplete. Make sure that you have enough time to visit this place.
Opening time: Mid-June to early September: 9 am to 12 am, and rest of the year: 9:30 am to 11:30 pm.
Entrance fee: Eiffel Tower ticket prices for children under four years old are at no cost. The other prices are according to
Lift Entrance Up to the 2nd floor: INR 861 (EUR11,00) for adults, EUR8,50 children (12-24) years, Children ( 4- 11) years old EUR 4,00.
Lift Entrance to the Top Floor: EUR17,00 for adults, Children, EUR14,50 (12-24) years, and EUR8,00 for kids ( between 4 and 11) years.
Stair Entry up to the 2nd floor: EUR7,00 per adult, EUR50 for children (12-24) years, and EUR3,00 for children ( 4- 11) years.
2. The Louvre
In the middle of Paris, Louvre is the most visited and well-known art gallery and museum in the world. One of the most popular tourist destinations to visit in Paris, this lavish and exotic museum is divided into various sections: Egyptian antiquities, Oriental antiquities, Islamic art, Greek and Roman art, painting, works of art, sculptures from medieval times, and graphic art.
Opening Time: 9 am to 10 30 PM on Wednesday and Friday and the rest of the days from 9 am to 6 pm. The museum is closed on Tuesdays.
Fee for entry: EUR12
3. Notre Dame Cathedral
Notre Dame is a famous and gorgeous Roman Catholic cathedral – one of the most popular spots to see in Paris. So if you want to see the gorgeous architecture of Paris, this is the location to go. The place has a unique charm to itself that is hard to ignore. This is why it is considered among the top popular destinations in Paris.
Opening Time: 8 am to 6:45 pm.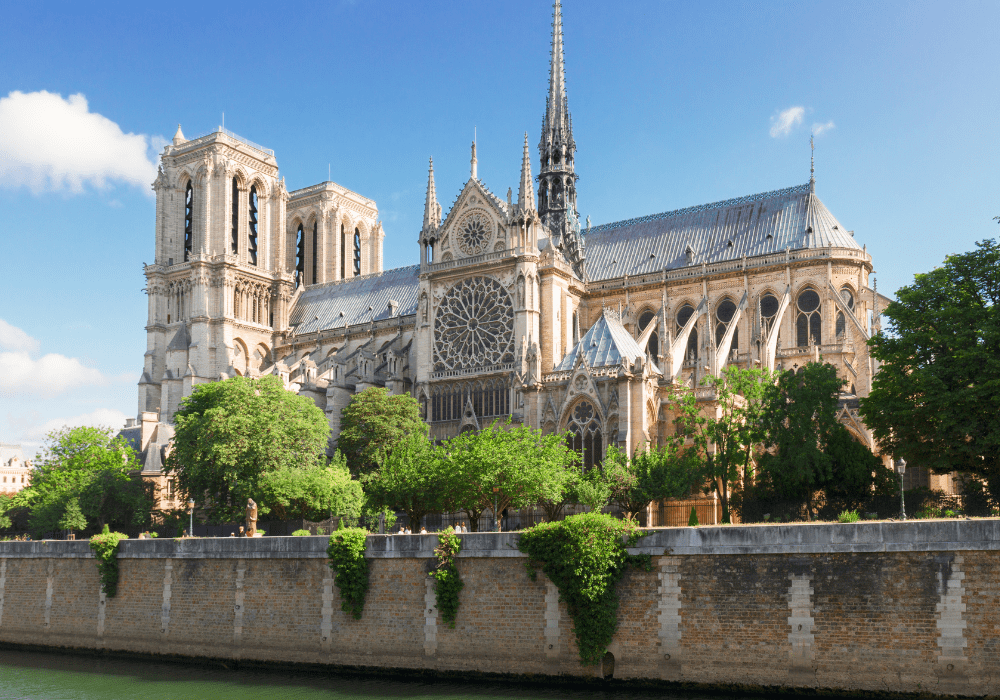 4. Seine River Cruise
One of the most outstanding ways of seeing the Seine is to stroll along it, especially on the focal stretch from Les Invalides to Ile Saint-Louis. There, crisscross across the waterway on the Pont Alexandre III, Pont Royal, and Pont des Arts to see probably the most exquisite and notable engineering in France.
On the other hand, a Seine River voyage permits you to rest your legs and respect similar sights; book an early lunch, lunch, or supper journey to consolidate your touring with a French feast, or choose an Eiffel Tower combo to appreciate two of Paris' most famous exercises in a single visit.
Fee: The prices vary from time to time but basic Seine river cruise tickets prices start from 15 Euros.
5. Arc De Triomphe
Built to honor the Imperial Army during the 19th century, the Arch of Triumph is a unique structure and is among the most famous spots in Paris. The stunning sculptures, carvings of pillars, and engraved stories of victory on the arc are beautiful features.
The beauty of the area is in its gorgeous architectural design. It is a guarantee that you will be captivated by the incredible architectural design of the site. It is due to the gorgeous design that it is so well-known among visitors. Every year, hundreds of tourists come to the site.
Opening Time: April to September 10 am to 11 pm. October to March, 10 am to 10:30 am. It's closed on Mondays.
Cost of entry: EUR 8
6. Disneyland
Disneyland is the most visited tourist attraction and is among the top destinations to visit in Paris.
It was initially known as Euro Disney Resort. It's a well-known destination in Paris for its entertaining rides, shows, rallies, and animation films. There are also thrilling experiences of seeing your favorite characters. If you're planning a day of fun with your children in Paris, this is the perfect place.
Entry fee: Disneyland Paris Tickets for one-day Costs 36.00 Euro for adults and 30.00 Euro for children.
7. Montmartre
Montmartre is one of the hillocks situated in the north of Paris. Famous for its white-domed Basilica and the busy Square of Tertre, this hill is a popular destination for visitors, making it one of the most popular places to visit in Paris. This road is constantly populated with artists and sculptors working on stunning works inspired by their surroundings.
Montmartre has been a source of inspiration for famous artists such as Claude Monet, Pablo Picasso, Vincent van Gogh, and Amedeo Modigliani. It is a true heaven for all artists out there. If you want to see stunning art located in Paris and beyond, then Paris is where you should be. Please take a look at the incredible artwork all over the city and be amazed by them
Opening Time: May to September, 8:30 am to 8 pm. October to April – 9 am to 5 pm.